By Whitney Hale and Jenny Wells
 
The University of Kentucky Office of Nationally Competitive Awards has announced that 2017 philosophy graduate Benjamin Troupe, of Mercersburg, Pennsylvania, will receive one of only 30 Thomas R. Pickering Foreign Affairs Fellowships. Troupe is the first UK student to be awarded the prestigious honor.
Funded by the U.S. Department of State and administered by The Washington Center for Internships and Academic Seminars, the Pickering Fellowship Program provides graduate students with up to $37,500 annually in financial support for a two-year master's degree in a field related to the Foreign Service, as well as internships, mentoring and professional development to prepare them for a career with the department.
Upon successful completion of the program, Pickering Fellows work for at least five years as a foreign service officer based on the needs of the State Department, serving in D.C. or at a U.S. embassy, consulate and diplomatic mission around the globe.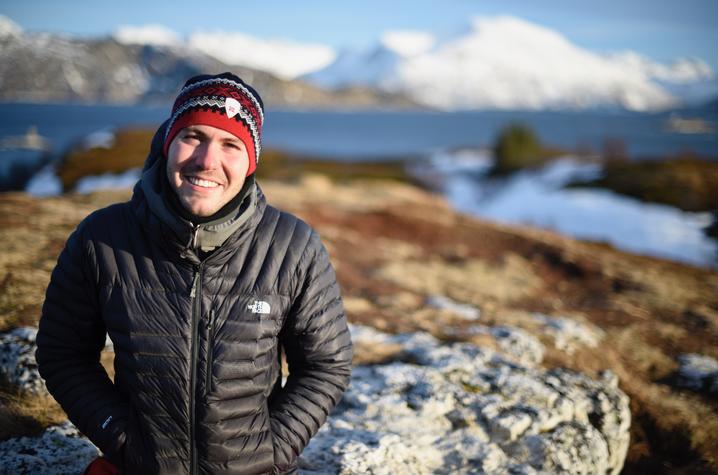 Troupe is excited about the opportunities the Pickering Fellowship will afford him for years to come. "Serving as a foreign service officer is a tremendous opportunity to be on the frontline of U.S. foreign policy, and to serve as a representative to our diplomatic partners around the world. I want to study diplomacy because I believe that in an increasingly globalized community, the United States can continue to play an influential role in ensuring the proliferation of democratic values and international tranquility."
At UK, Troupe earned his bachelor's degree in philosophy and a minor in political science, summa cum laude, in December 2017. A member of Phi Kappa Phi, he created and led the Fayette County Public Schools Recycled Bench Initiative in coordination with the Bluegrass Youth Sustainability Council, UK Recycling Office and Office of Sustainability, and funded in part by the UK Student Sustainability Council. Troupe also was a student member of the President's Sustainability Advisory Committee(2016-17 and 2017-18), the Sustainability Strategic Plan Steering Committee, the Faculty Sustainability Council (inaugural student member 2016-17 and 2017-18) and the Student Sustainability Council (2016-17).
In addition, Troupe conducted independent research on the interrelation of humanity and nature, and presented his research ("An Earth Ethic for the New Millennium") at the 2017 National Conference on Undergraduate Research and the 2017 UK Showcase of Undergraduate Scholars. Troupe's research was partially funded by his 2016 UK Sustainability Research Fellowship.
Troupe, who previously interned in the Lexington Mayor's Office and with the Kentucky Secretary of State, completed an internship as a Robert and Anne Trunzo Scholar at the U.S. Embassy in Berlin last summer. Troupe's time in Berlin confirmed his interest in the Foreign Service.
While philosophy might not be the first area of study you think of to prepare for a career in foreign service, Troupe makes a great argument as to why it is a real fit.
"I believe that it prepared me with the tools necessary to confront the variable and difficult diplomatic profession. Diplomats are confronted daily with a wide range of issues stemming from a wide breadth of knowledge, and my degree in philosophy has taught me to approach these problems in a measured and thorough manner. Bringing the expertise acquired through studying philosophy to a career in international relations may offer an alternative approach to solving the complex dilemmas facing U.S. diplomatic efforts."
UK's Pickering Fellow credits several faculty and staff as mentors who helped during his studies and the awards process. "I would like to especially thank Dr. Eric Sanday, Dr. Bob Sandmeyer, Dr. Eric Weber, Dr. Bill Swinford, Dr. Gregory Hall, Dr. Patricia Whitlow, Shane Tedder, Scott Shapiro, and my friends and family for supporting and encouraging me throughout my academic career," Troupe said.
Troupe will use his Pickering Fellowship to attend George Washington University Elliott School of International Affairs and pursue a master's degree in international affairs.
Honored to be UK's first Pickering Fellow, Troupe hopes he is just the first of many. "It means a lot, because I don't look at this as necessarily just an honor for me. I look at it as opening a door for other Kentucky students to hopefully apply and win the fellowship as well, and hopefully bring Kentucky some more Pickering Fellows in the future."
Troupe applied for the Pickering Fellowship through the UK Office of Nationally Competitive Awards, part of the Chellgren Center for Undergraduate Excellence within the Division of Student and Academic Life at UK. The Office of Nationally Competitive Awards assists current UK undergraduate and graduate students and recent alumni in applying for external scholarships and fellowships funded by sources (such as a nongovernment foundation or government agency) outside the university. These major awards honor exceptional students across the nation. Students who are interested in these opportunities are encouraged to begin work with the office's director, Pat Whitlow, well in advance of the scholarship deadline.