Philosophy Alumni Spotlight: Andrew Grotto
By Julie Wrinn
"Kentucky Is a Pretty Special Place"
The Transformation of Andrew Grotto from High School Underachiever to Cybersecurity Wonk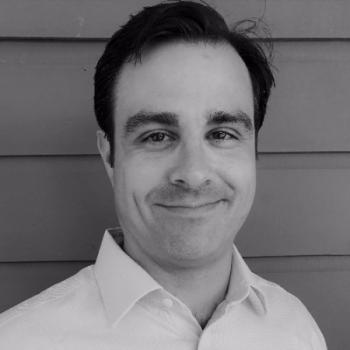 As a freshman entering UK's Honors Program in 1994, Andrew Grotto (B.A. Philosophy '99) was on academic probation from day one. Though he would go on to a glittering career on Capitol Hill, at the White House, and now at Stanford, with graduate degrees from Berkeley and Harvard, Grotto didn't apply himself to academics until his last year of high school. "I figured out in my senior year that maybe I should go to class," he joked. Grotto is not really sure why he didn't take school seriously, other than "teenagers' brains aren't wired to think about risk and long-term consequences."
Despite a mediocre cumulative GPA coming out of high school in the Chicago area, Grotto had unusually high ACT scores and managed to gain acceptance not only to UK but to the Honors Program. Honors staff Kate Johnson, however, warned him not to slip up: "She said something like, 'We'll take you, but you're on probation,' and I had to earn a GPA of at least 3.5 to stay in the program." Grotto was especially glad to obtain housing in Patterson Hall, the Honors Program dormitory, because "I didn't really know how to study," and he knew he needed to surround himself with peers who did.
Terrified of failing in school and having to move back to Chicago to find work as an underachieving 18-year-old, Grotto knew he needed extra help at UK. Fortunately, his first semester Honors class was taught by English professor Jane Gentry. "The first writing assignment we did, she gave me a C," he remembers. "We probably spent an hour in her office going over it." The poor grade was a wake-up call, because Grotto couldn't remain in the Honors program if he got C's.
While Gentry taught him how to write, Grotto knew that his math skills also needed work, so he enrolled in the Math Excel program, which offered three-plus hours per week of extra calculus problems. "It was a mixture of kids like me who needed help but had some aptitude, and really high-achieving types like physics majors who just wanted to get the extra practice. My TA for that, Daphne Skipper, was awesome." He credits her and Prof. Gentry with propelling him through that crucial first semester. "Between her and Jane Gentry, I got such a good foundation, not just in substance but in how to study. I can't think of another university where you'd get that kind of attention as a freshman."
In Grotto's second semester he became enthralled with the field of philosophy through the influence of two professors. The first was his Honors faculty mentor, Dr. Tom Olshewsky, now retired. "He was this kind of stereotypical philosophy professor, a super-bright guy, slightly crazy in a good way. He let me sit in on one of his graduate classes, and I remember being intrigued by that. It was a whole different world to me." That semester Grotto also greatly enjoyed his Honors class taught by Brandon Look, now the department chair, and later sought out advanced philosophy courses taught by Dr. Ted Schatzki and Dr. Joan Callahan, among others.
Next Grotto made the acquaintance of Gaines Fellowship director Raymond Betts. "I had some bug in my head that I was all worked up about, some academic topic, and someone said I should go talk to Ray Betts. We ended up spending a couple hours talking, and he told me about the Gaines Fellowship. I ended up applying my sophomore year and got the fellowship for my junior and senior years."
Grotto enjoyed getting to know Prof. Betts outside the classroom, often dining at his house with other Gaines fellows. Grotto also befriended the next Gaines director, Dan Rowland. "Prof. Rowland took over for my senior year, and he was awesome. He and I used to go and drink Guinness at Lynagh's"—vestiges of an earlier era of when faculty, undergraduates, and beer would routinely "mix."
Thanks to the Gaines Fellowship, Grotto had a once-in-a-lifetime experience stemming from a seminar on religious and secular pilgrimages taught by Edward Stanton, then chair of Hispanic Studies. Over the summer, Prof. Stanton took the class on a real pilgrimage to Spain, where they hiked the Camino El Santiago as a fieldwork component of the class. "We spent two weeks backpacking on this trail, experiencing the concept of pilgrimage firsthand. That's not the kind of experience you usually find at a state school."
After UK, Grotto earned a J.D. at Berkeley and a M.P.A. at Harvard, with the intention of becoming a law professor. His plans changed after he accepted a position at a Washington, D.C., think tank, the Center for American Progress, as a Senior National Security Analyst. His writing and research there focused on U.S. policy towards nuclear weapons—their role in national security strategy and how to prevent their spread. He began to reorient his policy interests in 2008, after his think tank, along with other think tanks and both presidential campaigns, experienced significant cyber intrusions by a foreign government seeking to collect intelligence.
"On the policy side, cybersecurity is a relatively new discipline. People have thought about computer security for as long as there have been computers, but it really only came into focus in the last 10–12 years as a recognizable distinct policy domain. It's really rare in national security policy for an issue to come along that allows someone to participate in the foundational debates about the field." The newness of cybersecurity policy was attractive to Grotto, compared to mature fields like counterterrorism or nuclear weapons nonproliferation, where foundational policy questions had already been decided. "I got into it for that reason. It's new and exciting."
Grotto's expertise next brought him to Capitol Hill, where he joined the professional staff of the Senate Select Committee on Intelligence, advising Senators Sheldon Whitehouse and Kent Conrad on oversight of the intelligence community. He was a contributing author of the "Committee Study of the Central Intelligence Agency's Detention and Interrogation Program" and served as then-Chairman Dianne Feinstein's lead staff overseeing cyber-related activities of the intelligence community. He also led the negotiation and drafting of the information sharing title of the Cybersecurity Act of 2012, which later served as the foundation for the Cybersecurity Information Sharing Act that President Obama signed in 2015.
After a stint as senior advisor to Commerce Secretary Penny Pritzker on all aspects of technology policy, Grotto joined President Obama's White House as Senior Director for Cybersecurity Policy, where he played a key role in shaping President Obama's Cybersecurity National Action Plan and driving its implementation. He stayed in the position after President Trump's inauguration at the request of Homeland Security Advisor Tom Bossert, in order to facilitate an orderly, professional transition of cyber policymaking to the new administration. He would go on to become the principal architect of President Trump's cybersecurity executive order, "Strengthening the Cybersecurity of Federal Networks and Critical Infrastructure."
In September 2017 Grotto relocated with his family to Palo Alto, CA, to become a William J. Perry International Security Fellow at the Center for International Security and Cooperation, as well as a Research Fellow at the Hoover Institution, both at Stanford University. Now Grotto studies national-security and international-economic dimensions of America's global leadership in information technology innovation, including topics such as the allocation of responsibility between government and the private sector in defending against cyber threats; cyber-enabled information operations in the statecraft of liberal democracies; norms of sovereignty in a digitally connected world; and governance of global trade in information technologies.
In all of these complex policy debates, Grotto credits his B.A. in philosophy for teaching him how to think. "I found philosophy a particularly powerful and useful way to get my brain tuned and wired to think about issues, reason about them, hopefully clearly, and come to judgements that are well-informed and well-reasoned and defensible."
Grotto was excited to learn about UK's new internship program in D.C. "To end up in public policy and find a job in Washington, you've got to be in Washington. Students who are there already and have those connections will always have an advantage over students who don't." Because UK's program takes place during the academic year and provides course credit, the internships are available to students from a wide range of economic backgrounds—not just to those who can afford to work for little or nothing over the summertime. Said Grotto, "That's a tremendous equalizer for those seeking jobs in D.C. after graduation. It's also obviously a valuable experience in its own right, even if students don't want to stay in D.C. afterwards."
Grotto's advice for today's students is to actively seek out mentors. While he no longer dismisses the importance of fundamentals like doing homework and going to class, he feels that a lot of deep learning occurs when students are talking with their friends over pizza or having casual conversations with faculty. "I had an amazing experience at Kentucky, but I also was not shy about seeking out help and resources and people, and not all students do that." He added, "That's one area where I would say that Kentucky is uniquely special—willing and enthusiastic faculty mentors. Kentucky is a pretty special place, with truly world-class scholars and by far some of the best teachers I've certainly ever encountered. That's a rare combination." He added, "It doesn't hurt that it's also got the best basketball team in the world."
Ultimately, Grotto's experiences at schools with elite reputations have solidified his appreciation for UK. "The quality of education I got is second to none, and I would totally do it again."