By Madison Dyment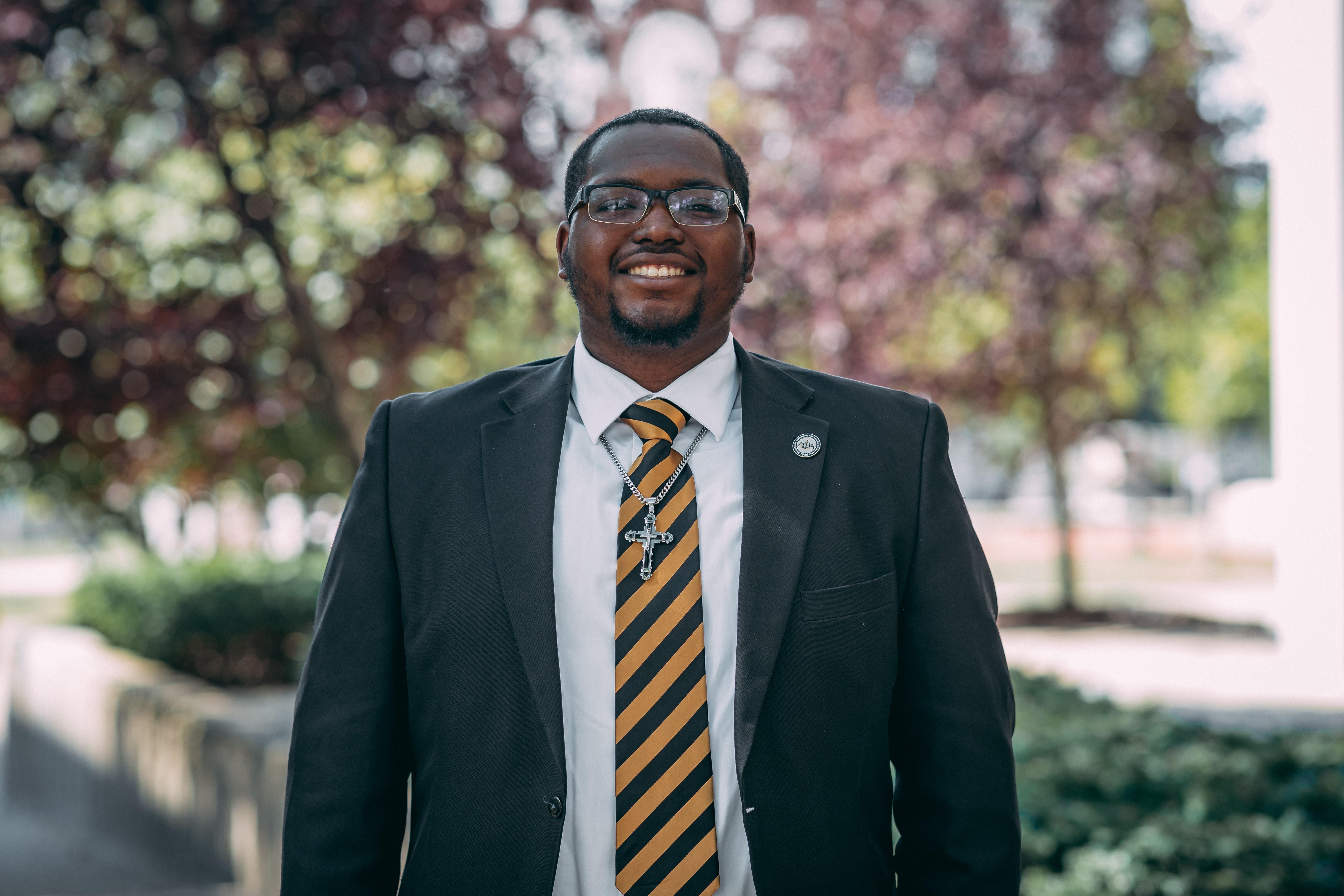 Most people have a desire to make their world a better place, but a special few devote their lives to this form of service. Royal Todd, a fourth-year philosophy major with sociology and African American and Africana Studies minors at UK, is one of those few. 
Todd and his family come from the west end of Louisville. From a young age, Todd felt called to be of service to those around him. He has spent his life answering that call in many ways. At 12, he began gospel ministry, preaching his first sermon on his 13th birthday. But it was during high school that Todd began forming his core personality and beliefs.
"From my eighth-grade year to my ninth-grade year, I started doing church work and ministry," Todd said. "I started putting a lot more emphasis on education and not just being socially competent but also more politically competent."
With a cohort of peers, he founded the first high school Black Student Union in Kentucky. 
"We had a lot of pushback when we went to start it, but once we overcame all that pushback and got it solidified, they just started popping up across the county," Todd said. "Now, there's a lot of BSUs at that level that provide a safe place to talk about things that needed to be talked about in communities of marginalized identities."
Todd also was a part of the Muhammad Ali Center Council of Students. This initiative was inspired by Ali's statement, "Service is the rent we pay for our stay here on Earth." The council of students works to serve and improve themselves and their community through Ali's core principles: respect, confidence, conviction, dedication, spirituality and giving. 
"Our group connected with various service-based initiatives, ranging from bringing awareness to the sex-trafficking issue of the city, to a sort of first-steps program for immigrants that come to Louisville," Todd said. "Getting connected with those people helped lead me to the community service/civil rights persona I've gone on to develop."
"This really allowed me to be a support system for my peers, someone they could be comfortable talking to about anything which led me to how I would be involved at UK," Todd said.
Despite coming from a family with little emphasis on religion, Todd chose to pursue his desire for service through ministry. Since his first sermon, he spent two years dedicated to practicing and studying the craft and received certification in 2013. 
Even with professional development, Todd valued the healing he found through his ministry work.
"One of the most inspirational things I saw my ministry do was bring back my family, not just to religion, but to one another," Todd said. "It provided a platform where some necessary healing could take place."
This sentiment encompasses more than just his family. 
"As I developed a ministry that would span across the nation, that effect has never left me and inspires me to keep doing what I'm doing," Todd said. "I have seen people who, through interactions, conversations or services with me, have begun to bring things back together in their own lives which is such a comfort to me."
Todd did not choose his majors at UK lightly.
"I stumbled upon philosophy because it teaches three fundamental things," Todd said. "It teaches you how to think. It teaches you how to speak and it teaches you how to write. These things are fundamental in every aspect of academia and beyond.
"There is a way about preaching that requires course of study, but there's also the position that if you're going to do something, you have to take ownership of it and do it to the best of your ability," Todd said. "For me, pursuing those higher degrees is taking ownership of my craft.
"When thinking about what life may be like after UK, I feel if I can leave with a degree in my hand and those concepts sort of bonded to my character, it would prepare me for whatever facet of career exploration that I may choose," Todd said.
Sociology and African American and Africana Studies held just as much importance in Todd's ministry plans. 
"While philosophy will teach you to critically analyze details of religion, sociology will teach you to apply those things in a church setting," Todd said. "If you want to lead a church, it's important to make decisions, but it's also important to understand how people interact with one another."
African American and Africana Studies holds weight due to Todd's specific focus on the African American church and its history. 
"Philosophy teaches me how to think about it, sociology teaches me how to apply it and African American and Africana Studies teaches me the history of it. So, that's sort of how they all came together in my mind," Todd said. 
After graduating, Todd intends to further his studies and pursue a Master of Divinity degree and study for a Ph.D. in sociology. He also hopes to continue to dabble in student affairs as he furthers his education after UK. 
During his time at UK, Todd made instrumental connections and was exposed to formative experiences. Through relationships with professors such as College of Arts & Sciences Dean Mark Kornbluh, associate professor of history Kathi Kern and philosophy chair and professor Brandon Look, Todd learned about having a passion for activism, teaching, the student community and his studies. 
"All three of those persons have been inspirational figures to look to," Todd said. "I've had the opportunity to teach alongside Dr. Kern and Dr. Kornbluh for the second time in the fall and I can always call them and ask questions."
Todd also threw himself into student organizations at UK. He is an ambassador for the College of Arts and Sciences and holds an internship position at the Martin Luther King Center. 
"As I became more involved on campus, I have been able to advocate in a lot of spheres where I couldn't previously," Todd said. "UK taught me the formal language of academia and how to properly navigate certain spaces." 
Through it all, Todd never forgot his primary passion: to live his life in service and offer support for those around him.
"Through UK, I have been privy to spaces and conversations that my peers may never have the opportunity to be able to experience," Todd said. "I never forget the weight of those responsibilities because I'm not just speaking for myself but, potentially, on behalf of other people. It's all about advocating for those who don't even know they need to be advocated for."